Thu., Aug. 25, 2011, 2:33 p.m.
Stein Flubs North Idaho Lake Spelling
In lecturing Texas Gov. Rick Perry about economics, conservative commentator Ben Stein of CBS News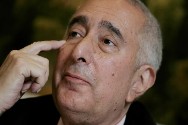 bragged that he was going to leave Perry alone "for this month and just spend it on my boat up at Lake Pendoreille (sic) in North Idaho, a mountain lake where ospreys soar and where I feel at peace." Huckleberries'd like to think that the misspelling of Lake Pend Oreille was an editor's error rather than one made by Stein (boring economics instructor in "Ferris Bueller's Day Off." Stein, after all, has spent many vacations in the Sandpoint area. Story here. (AP file photo of Ben Stein)
Question: Which local place name causes you the most problems when you try to spell it?
---
---