Fri., Aug. 26, 2011, 10:24 a.m.
Carlson: Mathesons Back In Power
Former Coeur d'Alene Tribal Chairman and Casino Executive (1994-2006) David Matheson, is back in a seat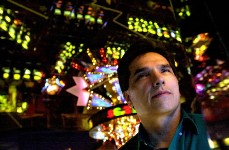 of prominence, his old job as Casino executive, after five years of acrimonious litigation full of charges and counter-charges the press shouldn't repeat because there were no verdicts and no real conclusions. Any observer of Native Americans, or anyone who has business or political dealings with tribes as an entity quickly learns the internal politics of any tribe are as Byzantine and as complex as any politics anywhere. If one has not been raised in that culture one cannot begin to understand the machinations. ... Suffice it to say to outward appearances the Matheson family is back in the saddle of real power. Whether that is at the expense of some other powerful family, which is now out, who outside can say?/Chris Carlson, The Carlson Chronicles. More here. (SR file photo/Kathy Plonka: David Matheson in previous stint running casino)
Question: How much involvement have you had with the Coeur d'Alene Indian Tribe?
---
---