Fri., Aug. 26, 2011, 10:42 a.m.
Crapo Remarks On Grizzly Shooting
U.S. Sen. Mike Crapo's statement about the grizzly shooting case involving Jeremy Hill of Bonners Ferry: "I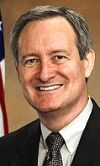 have deep concerns about this incident and the decision of the government to prosecute Mr. Hill, who did what any parent would do in this situation. Clearly, Mr. Hill thought that his family was in danger and was protecting them from harm. I understand that the Endangered Species Act is intended to protect threatened and endangered species, but Congress never intended to do so at the expense of basic public safety and the ability to protect oneself or their loved ones in the face of danger. The American people need to know that they can protect themselves, their families and property when threatened by federally protected wildlife, and that the government will support their right to do so." More below.
Question: Are you glad/mad that Gov. Butch Otter and the Idaho delegation have gotten involved in this case?
"Mr. Hill and his family deserve for this matter to come to a fair and swift conclusion, and once that happens, Congress needs to get to work on commonsense ESA reforms to ensure that this deeply unfortunate situation never happens again. In the meantime, I am going to work with my delegation colleagues and the governor to ensure that Mr. Hill and his family get the fairest possible treatment under the law and can move on with their lives."
---
---