Fri., Aug. 26, 2011, 2:58 p.m.
Edinger Plans To Run Again
Long-time Coeur d'Alene Councilman Ron Edinger told Huckleberries moments ago that he planned to seek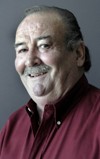 re-election this fall. Edinger said he was gathering signatures for his candidacy petition and will submit them to the city clerk's office next week. Edinger has been on the City Council since the 1960s, serving as mayor in the late 1970s. He told Huckleberries that he's in good health after a scare earlier this year. His doctor confirmed that during an examination last week. He said he's still looking for a second to his motion to put proposed changes to McEuen Field to a public vote. Otherwise, he said he's eager to seek another term, commenting: "It's hard to put us old guys down." Edinger becomes the second candidate to indicate his candidacy for council. Dan Gookin announced Thursday that he'll seek the seat currently held by former mayor Al Hassell. Hassell has been leaning all year toward not running again.
---
---