Mon., Aug. 29, 2011, 9:42 a.m.
Adams To Announce For Council
Coeur d'Alene small businessman and community activist Steve Adams will announce today his candidacy for Coeur d'Alene City Council (for seat now held by John Bruning). Adams, who came close to winning a council seat two years ago, will make the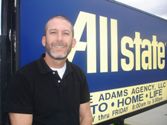 announcement at a gathering of supporters in Bluegrass City Park today at 6 p.m. Adams, 45, is an Allstate insurance agent and a native of Coeur d'Alene, where he lives with his wife, Candace, and three sons, ages 16, 7 and 4. He is a 1984 graduate of Coeur d'Alene High School and attended North Idaho College and the University of Idaho. He now serves on the Coeur d'Alene Parking Commission and is Kootenai County Reagan Republicans official. Adams describes his top issues as support for a public vote on McEuen Field changes, opposition to proposed city pay hikes in the midst of the "Obama recession," and support of public safety in Coeur d'Alene. Full announcement here. (Facebook photo: Steve Adams' wall)
Question: Adams joins Dan Gookin, who announced last week, as a candidate calling for a public vote on approved McEuen Field changes. Is the 2011 election an unofficial referendum on McEuen Field?
---
---