Tue., Aug. 30, 2011, 1:10 p.m.
Account Starts For Fam Who Lost Boy
Fresh Shart Director Howard Martinson is raising funds for the homeless Deshazer family, which lost a 5YO son and has a second child, a 1YO daughter, in critical condition after a crash into Fernan Lake Sunday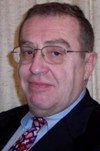 afternoon. Evan Deshazer, 5, died, and his sister, River Deshazer, 1, remains in critical condition at Providence Sacred Heart Medical Center. Sarah Deshazer, 25, and her husband, Michael, 28, were able to escape the vehicle. "The Deshazers were a homeless family and have been Fresh Start clients for a while now," said Howard Martinson (pictured), director of the homeless drop-in center on East Sherman Avenue, in a news release. "There's a huge hole in our collective hearts. We are so sorry for their loss." Martinson said an account has been opened at Idaho Independent Bank to benefit the family/Alison Boggs, SR. More here.
Reaction?
---
---