Wed., Aug. 31, 2011, 10 a.m.
Kerri: Slimmer Hamilton Keeps Pledge
Back in January I recounted some of my journey to become fit and lose weight, which prompted a reader to communicate his own struggles. He shared a touching story of how last summer he'd taken his daughter to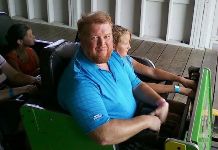 Silverwood but was unable to accompany her on the roller coaster due to his size. He promised her that day that he could do something about his weight and would. And that this summer they'd take that roller coaster ride together. A promise made is a debt unpaid, he said. ... I mentioned the story to my friend, Nancy DiGiammarco, who happens to be the marketing director for Silverwood. She mentioned it to owner Gary Norton. They were both as moved as I was with the story and long before the park opened for the summer, gifted the father with passes to the park. I was thrilled to hear that Tom Hamilton kept his promise to his soon-to-be sixth grade daughter, Lizzie this past Sunday/Kerri Thoreson, Main Street, Coeur d'Alene Press. More here. (Tom Hamilton Facebook photo: Tom & daughter, Lizzie)
Question: Have you ever lost a considerable amount of weight -- and kept it off?
---
---