Wed., Aug. 31, 2011, 8:08 a.m.
Vestal: Idaho Ignores Its Teachers
If you want to "fix schools," apparently, there's one group of people you should ignore. Teachers. And when, in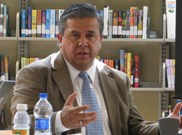 the course of fixing schools, you ignore this group of people, you should make it clear that you are not really ignoring "the people." They're just teachers. If you want to fix schools and put students first – well, first after taxpayers and "customers" and federal standards and ideological opponents of unions – what you should do about this group of people is remove them from the equation altogether. Make 'em leave the room while kids learn on computers. Teachers. If only we could have schools – very cheap, very effective schools – without them/Shawn Vestal, SR. More here. (AP file photo of Superintendent Tom Luna)
Question: Why do Idaho political leaders have such disdain for teachers?
---
---