Thu., Dec. 1, 2011, 1:23 p.m.
GOP Strategist: Occupy Makes Impact
The The Republican Governor's Association met in Florida this week and featured pollster Frank Luntz, who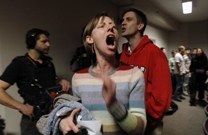 offered a coaching session for attendees about how they should communicate to the public. Yahoo! News' Chris Moody was there, and captured some of Luntz's comments on Occupy Wall Street. Luntz told attendees that he's "scared of this anti-Wall Street effort. I'm frightened to death." The pollster warned that the movement is "having an impact on what the American people think of capitalism." So the pollster offered some advice for them about how to fight back/Zaid Jelani, ThinkProgress. More here. (AP photo of angry Occupy Raleigh, NC, protestor)
Question: Has the Occupy movement changed your idea about capitalism?
---
---