Thu., Dec. 1, 2011, 8:15 a.m.
Lucrative WSU Deal Lands Leach
On Tuesday, Washington State – in the view of one of its old guard – lost its innocence. On Wednesday, the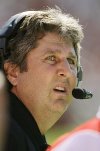 Cougars lost their minds. In the very best way, of course – providing you're not wedded to a 1980s way of how Wazzu fits into the football jigsaw puzzle or bearish on how universities do their sweaty show business nowadays. For really the first time since college athletics became a runaway train, the Cougars have scrambled on board. Barely 24 hours after he'd officially lopped Paul Wulff and his $600,000 annual salary off the payroll as head football coach, athletic director Bill Moos leveraged $11.25 million of the school's share of the upcoming Pac-12 television bonanza to hire a replacement/John Blanchette, SR. More here.
Question: Do you expect improving WSU to go to a bowl game in 2012?
---
---