Fri., Dec. 2, 2011, 9:22 a.m.
IFF: Prioritize People, Not Government
In the coming weeks, you're going to be hearing a lot about the state's budget – the fact that there's a looming budget surplus and a host of government agencies begging for that money. At the same time, that surplus has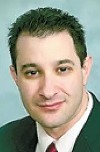 ignited some desire to cut taxes. Lawmakers need to remember that when they vote to set a state budget and establish the tax policy that goes with that budget, what they're really voting on is how much money to take out of the economy. They're voting on how much money businesses, their employees, Idaho residents, charitable organizations and so on should not have because government supposedly needs it more. Some money is invariably necessary to provide services that fall under the heading of the "proper role of government." ... But it is important to remember that every penny that's taken out of the private sector to run government programs and services and entitlements is a penny that isn't available to the private sector for salaries and raises, to hire new employees or to make capital investments/Wayne Hoffman, Idaho Freedom Foundation. More here.
Question: Should surplus money in the Idaho state budget be used to cut taxes or to expand state programs?
---
---