Fri., Dec. 2, 2011, 10:37 a.m.
Megaloads Eye Wallace For Pit Stop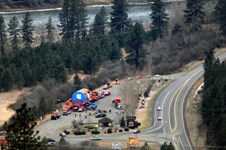 The city is discussing the idea of a megaload staging area that would be set up in the parking lot across from the visitor's center. During a special city council meeting Thursday, members unanimously gave Mayor Dick Vester the authority to enter into a contract to use the space for megaload parking and maintenance for six months. "It'd be good for commerce in Wallace," Vester said, because crews would utilize hotels, restaurants and stores in town/Kelsey Saintz, Shoshone News-Press. More here. (AP file photo: In February, the first ConocoPhillips megaload staged in Kooskia awaits the next leg of its journey to Billings)
Question: Wallace seems to be welcoming the megaloads with open arms, while they have triggered protestors in Moscow and indifference in Coeur d'Alene. What's the difference?
---
---