Fri., Dec. 2, 2011, 9:32 a.m.
SI's Mandel: WSU Scores Big Time
It's remarkable, really. Washington State has not been to a bowl game in eight years, going 9-40 over the past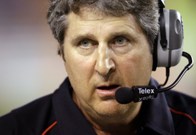 four seasons. Tucked in one of the most remote towns of any BCS conference, the school would seemingly be hard-pressed to attract a high-profile coach. Instead, Wazzu just landed a coach that took a Big 12 program to 10 straight bowl games, went 84-43, earned national coach of the year honors in 2008 and is considered one of the greatest offensive innovators in the sport. The Cougars just scored their biggest win in years. Mike Leach's two-year exile from coaching is over because a moribund Pac-12 program was able to do what Maryland and so many others could not: It got past the baggage. As a result, the Cougars won't be moribund much longer/Stewart Mandel, SI.com. More here. (AP photo of Mike Leach)
Question: Isn't it nice to have a college football team on the Palouse recognized for doing something right?
---
---