Mon., Dec. 5, 2011, 1:04 p.m.
BSU's Petersen Rips BCS System
Boise State football coach Chris Petersen said Monday it's time to scrap the Bowl Championship Series system that left Nos. 6 Arkansas, 7 Boise State, 8 Kansas State and 9 South Carolina out of the elite bowls in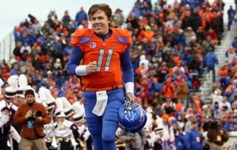 favor of four teams ranked outside the Top 10. "The whole thing needs to be changed, there's no question about it," he said. "… I think (change) is coming, I really do." The Broncos (11-1) were left out of a BCS game with a Top 10 ranking for the fourth time in eight years. This time, they were passed over for a Sugar Bowl matchup that features No. 11 Virginia Tech (11-2) and No. 13 Michigan (10-2). Virginia Tech lost by 28 points Saturday and hasn't beaten anyone currently ranked. "Everybody is just very tired of the BCS," Petersen said. "I think that's the bottom line. Everybody is frustrated. Everybody doesn't really know what to do anymore. It doesn't make sense to anybody. I don't think anybody is happy anywhere"/Chadd Cripe, Idaho Statesman. More here. (Joe Jaszewski Statesman/AP photo: QB Kellen Moore takes the field against New Mexico Sunday)
Question: Do you agree with BSU football coach Chris Petersen that everyone's tired of BCS bowl system? And/or: Do you want to see LSU & Alabama face each other for second time, in championship game?
---
---