Mon., Dec. 5, 2011, 9:11 a.m.
Hucks: Jonny Got His BB Gun Early
Jonathan Franco, the Rathdrum police officer who was killed in a motorcycle crash near Cusick, Wash., in September, had a lifelong love of guns. In remembrance of Jonny, on what would have been his 28th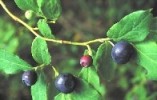 birthday last Wednesday, his mother, Elizabeth Yalian, of Rathdrum, emailed Huckleberries a letter she wrote about her son. It included this essay Jonny wrote at age 9 upon learning he was getting his first BB gun (complete with a child's misspellings): "The best thing I ever (heard) was the day Mom said I could have a B.B. gun. I thaohgt I would faint when Mom said yes but I had to get this awfull haircut but I didn't care. Mom had already gotton me B.B.s and later got me some pellets. We went in to Shopco and thier it was the most buitiful thing I ever saw. After school I couldn't wait to go shooting I was very angcious to knock some cans of the hey stak. A few weeks later I got a scope and after Christmas I got a case for it." Gone but never forgotten/DFO, Huckleberries print. More here.
More SR weekend columns:
---
---