Mon., Dec. 5, 2011, 12:04 p.m.
Noon: Madonna Gets Super Bowl Gig
At last we know exactly how long the National Football League was required to act as if it was really, really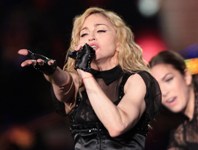 sorry about that brief flash of Janet Jackson's chest during the 2004 Super Bowl halftime show. Eight years. With the announcement that the 2012 Super Bowl halftime act will be Madonna, the penance is officially over. It's not that Madonna is likely to go flashing any of her girl parts on national television. Madonna understands the calculus of every situation she enters, so let's bet that she knows this is an all-ages show. "Malfunctions" do not follow Madonna around/New York Daily News. More here. (AP file photo)
Question: Is the "Material Girl" a good pick for Super Bowl halftime show? Is she a safe pick?
---
---