Tue., Dec. 6, 2011, 1:23 p.m.
Leach: 'I'm Excited To Be Here'
Before a packed ballroom in the Compton Union Building Tuesday afternoon, Mike Leach was welcomed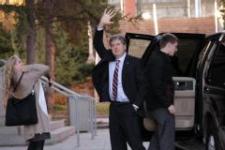 aboard as the new head coach of the WSU football program.Leach flew into Pullman early Tuesday and was introduced to the crowd by Provost Warwick Bayly and Athletic Director Bill Moos; President Elson Floyd was reportedly sick and could not attend the press conference.In his introduction to the man taking over the football program from Paul Wulff, Moos said of Leach that, "I talked to one man and I only wanted one man.""I came back to Washington State to go to the Rose Bowl and we're going to go there," Moos said/KXLY. More here.
Question: How long do you think Mike Leach will stay at WSU?
---
---