Wed., Dec. 7, 2011, 2:38 p.m.
Boise State To Join Big East
Boise State's highly ranked football program officially accepted an invitation from the Big East on Wednesday,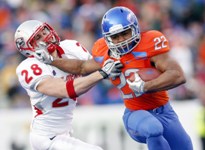 ending months of speculation about the Broncos' future conference plans. The rest of Boise State's programs are going to the Western Athletic Conference, which was the Broncos' home from 2001 to 2011. The conference moves will take effect July 1, 2013. "Today's announcement represents another significant step forward in the evolution of the Bronco football program and in the incredible growth of Boise State University. The move to the Big East Conference makes a powerful statement about our vision for the future of the football program, and more than ever will showcase the Broncos in the national spotlight," Boise State President Bob Kustra said/Brian Murphy, Statesman. More here. (Joe Jaszewski Statesman photo: Boise State is stiff-arming the Mountain West and bringing its powerhouse football program to the Big East in 2013)
Question: What do you think about the Boise State sports programs beyond football returning to the Western Athletic Conference?
---
---