WEDNESDAY, DEC. 7, 2011, 8:44 A.M.
Leach's First Hire Says Something
So just what is Washington State getting in new football coach Mike Leach? Who better to ask than the first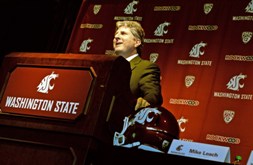 hire for his football staff, David Emerick, whom Leach said will be chief of staff, basically making sure everything runs smoothly in the football office. Emerick first crossed paths with Leach as a football operations intern when Leach was offensive coordinator at Kentucky, then joined Leach's staff at Texas Tech, moving his way up to the chief of staff position. The past two years he's worked in football operations for the recently fired Mike Stoops at Arizona. That change opened the door for Emerick to move north. "There is no better guy in the country to work for than Mike Leach," Emerick said Tuesday following Leach's introduction to the Washington State faithful/Vince Grippi, SR. More here. (Christopher Anderson SR photo: New WSU football Coach Mike Leach is introduced to the fans at Pullman Tuesday)
Question: Do you consider yourself to be a WSU Cougar football fan? Or are you a fan only when the Cougars are playing well, every 5-6 years?
---
---