Wed., Dec. 7, 2011, 9:17 a.m.
Records Forum Cooperation Unique
A whopping 92 people attended the open government seminar in Coeur d'Alene last night, sponsored by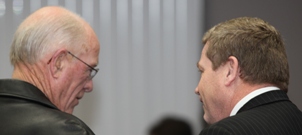 IDOG, Idahoans for Openness in Government, and co-sponsored by the Spokesman-Review and the Coeur d'Alene Press. Press Managing Editor Mike Patrick told the crowd it was the first time he could remember the two competing newspapers co-sponsoring an event. Among those attending were numerous local government officials and staffers, reporters for a variety of news media, political activists, several former state legislators and lots of interested citizens. Idaho Attorney General Lawrence Wasden singled out an audience member, former state Rep. Gary Ingram (left in photo, huddling with Wasden), for special recognition: Ingram is the author of much of the Idaho Open Meeting Law/Betsy Russell, Eye On Boise. More here.
Question: What other types of events would you like to see the Coeur d'Alene Press and Spokesman-Review jointly involved in?
---
---