Thu., Dec. 8, 2011, 8:57 a.m.
95,000 Respond To Mountain Jesus
In the past month, Flathead National Forest officials estimate they've received more than 95,000 comments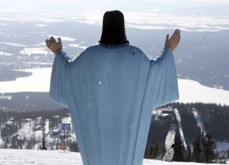 from the public about whether the statue of Jesus Christ on Big Mountain should be removed. The volume of comments became so unwieldy that Forest Service supervisors assigned a special team to organize, filter and read the comments, the majority of which were sent by email from across the United States. "It's a very divisive issue, and a very emotional issue," Derek Milner, who is leading the public review project for the Flathead National Forest, said. "People are either adamantly in favor or adamantly opposed. There really is no middle ground"/Tristan Scott, Missoulian. More here. (AP file photo) H/T: Orbusmax
Question: Do you have a strong reaction to this controversy, one way or the other?
---
---