Green Running For Sheriff? Senator?
From John Green for (Kootenai County) Sheriff Facebook wall comes a number of Hard Right positions,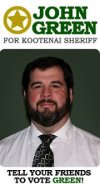 including his stand that the "federal government has no authority to regulate firearms within the state of Idaho." Another entitled "Sound Money" seems to indicate Green is running for the state Senate rather than sheriff. It reads: "The monetary system of the United States is a perversion of Logic and Justice. It subverts the Natural Law and allows for and, in fact, fosters crime and poverty. Our founding Fathers provided us with a Constitutional standard of measure that allows us to protect our wealth and calculate value. That standard is the Constitutional Dollar, a fixed unit of measure. As an Idaho Senator, I will work to ensure that the State of Idaho protects its citizens from the fraud of "fiat" money. You can read John Green's positions yourself here. (Photo from John Green for Sheriff Facebook page)
Question: After reading sheriff candidate John Green's position statements, can you tell us how many have to do with the operation of the office of sheriff?
---
---