Mon., Dec. 12, 2011, 12:20 p.m.
Hucks: Whither Office Goeth Green?
Let's play a game. Huckleberries will tell you where candidate John Green stands on issues. And you guess which office he's seeking. Ready? On his Facebook wall, Green lists his stands on several issues, including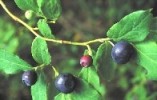 the Second Amendment: "The Federal Government has no authority to regulate firearms within the State of Idaho." And states' rights: The 17th Amendment (removing the Legislature's power to appoint U.S. senators) "should be repealed." And taxation: "The 'Internal Revenue Code' is an abomination and an absurdity." Which office does Green want? Kootenai County sheriff, of course. Or maybe not. Under the topic of "Sound Money," Green says, "As an Idaho senator, I will work to ensure that the State of Idaho protects its citizens from the fraud of 'fiat' money." Green might consider updating his position stands and tailoring them more to the current office he targets/DFO, SR Huckleberries. More here.
Question: Will you vote for John Green for Kootenai County sheriff?
---
---