Mon., Dec. 12, 2011, 10:29 a.m.
Luna Compares Foes To Occupiers
Republican Superintendent of Public Instruction Tom Luna believes that opponents of having for-profit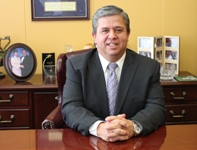 companies deliver online school courses in Idaho have a mentality not unlike protestors in the Occupy Wall Street movement. Luna also said that those worried about for-profit education companies providing online school courses might be anti-capitalist in nature. The superintendent was interviewed last week by IdahoReporter.com. "This undertone that somehow because for-profit companies are going to want to compete for educations dollars is the end of public education as we know it, that is an Occupy Wall Street argument that we see going on all across the country," Luna said, "where there's this attack on capitalism and an attack on profits"/Dustin Hurst, Idaho Reporter. More here.
Question: Is Luna right in comparing opponents of online education in Idaho to online foes? Or is he simply creating a straw man to marginalize opponents in the referendum campaigns next year?
---
---