Tue., Dec. 13, 2011, 3:16 p.m.
Blog: Leach Has Porn Fan Partner?
Washington State's new head coach Mike Leach is well known for his unconventional approach on the football field. But what's less well known is the way that delightful disdain for the status quo seems to extend off the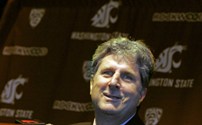 field as well, where Leach has partnered with the publisher of a series of Houston-area strip-club guides to put on a college all-star game. On January 16, dozens of the top college football players in the country will travel to Tucson, Arizona, to play in the Casino Del Sol College All-Star Game, to be broadcast on Fox Sports. On the game's website, the organizers are listed as Arizona Sports Group, LLC, a business incorporated in 2010 listing Leach and John Gray as co-managers. The site's "About Us" section also features bios of both men, but with some notable details missing/Jim Basnight, Seattle Weekly Blogs. More here (warning: raw content).
Question: Deal breaker?
---
---