Wed., Dec. 14, 2011, 10:18 a.m.
Vestal: 'Rent' Must Go On, Not Critics
I wish it didn't need to be said, but here goes: "Rent" is not "about" fornication. It's not "about" homosexuality.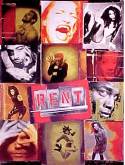 It's about human beings and their trials. It tries to do what good art does: create empathy, draw viewers out of themselves, provoke emotional and intellectual reaction. It's the constructive, valuable opposite of running around giving everyone a self-righteous thumbs-up or thumbs-down. But even if it wasn't, one of the great things about America, of course, is we can go to hell if we want to. Whenever people start gas-bagging starchily about "fornication" – a word that's only useful for hurling at others – you can be sure they've forgotten that. Besides the small-minded bigotry of it, opposition to "Rent" seems to grow from a serious cultural disconnect/Shawn Vestal, SR. More here. (Wikipedia photo)
Question: Do you plan to see Lake City Playhouse production of "Rent"?
---
---