Thu., Dec. 15, 2011, 9:42 a.m.
Edit: GOP Counterattack In Lewiston
Kootenai County isn't the only place where Republican centrists are striking back against hardline conservatives who have taken over the Idaho GOP. In Lewiston, Republican state Rep. Jeff Nesset (pictured) has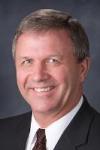 announced his candidacy for state Senate after being snubbed by 7th Legislative District Republicans who picked three others to succeed retired Sen. Joe Stegner. Apparently, Nesset sinned against the hardliners by opposing the constitutionally questionable nullification push by state Rep. Vito Barbieri and controversial education reforms proposed by Superintendent of Schools Tom Luna. Marty Trillhaase of the Lewiston Tribune talks about the "Reasonable Republican" movement of Kootenai County and pendulum swing against uberconservative zealots in today's Lewiston Tribune editorial. More here.
Question: Do you get a sense that centrist Republicans and Independents are waking up to the state's Far Right Republican push?
---
---