Thu., Dec. 15, 2011, 11:08 a.m.
JeanieS: Very Disappointed In CdA
JeanieSpokane (re: "Some trying to pull plug on "Rent"): This reaction by people in the community really bothers me on so many levels. I have always thought of Coeur d'Alene as a beautiful and eclectic area, with a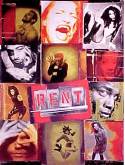 high-quality style of entertainment, from fine dining, to bohemian eateries, and the excellent quality of plays and musicals. It has such diverse, first-rate offerings that defy the small lakeside village atmosphere. Coeur d'Alene survived the taint of bigotry from the white supremists that were a blight to humanity. Now, a play is going to do them in? The people of Coeur d'Alene gave proof that there was compassion, understanding, and integrity in their community. People come to Coeur d'Alene from all over the world. I would think that the high standard CDA has set in the entertainment field would embrace all the topics that Rent covers – be it a person's lifestyle choice, or the struggles with addiction of any kind. Are you people in CDA better than the rest of us and above having any transgressions or bad behavior? I am very disappointed in you.
Question: Is Coeur d'Alene compassionate & understanding or intolerant?
---
---