FRIDAY, DEC. 16, 2011, 1:54 P.M.
ICB: Taliban Still Has Idaho Soldier
This Christmas will be the 3rd Bowe Bergdahl has missed with his family since being held captive in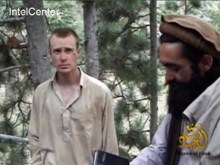 Afghanistan by the Taliban. Recently reports came out that Bowe was recaptured after a short three-day escape in August or early September and appeared to be in good health. A well-read national publication called the Daily Beast, an affiliate of Newsweek Magazine, says the soldier tried to escape. Quoting a Taliban source, the Daily Beast reported that Bergdahl told his captors that he wanted to find civilianvillagers who would help him and notify the U.S. I can't help but wonder Why if the Daily Beast reporter can get close enough to his captors to get this information, why can't the U.S. military? We want Bowe home. What is being done?/Idaho Conservative Blogger. More here. H/T: iSightOnline. (AP/IntelCenter photo of captured Bowe Bergdahl on Dec. 8, 2010)
Question: Has the American government done enough to get Idaho soldier Bowe Bergdahl home from Afghanistan?
---
---