WSU Cougs Makes Worst Uniform List
It's not a surprise that the Oregon Ducks have ended up on a new list of the best and worst football uniforms.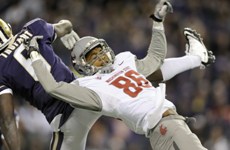 With multiple styles and colors of helmets, jerseys and pants, the Ducks' fashion sense has been the talk of college football for a few years now, whether you like them or not. What may be surprising to some is the Washington State Cougars uniforms were named one of the nation's worst by an expert panel put together by the Wall Street Journal. The main reason the Cougs' uniforms made the list was because of the font used for their numbers. "It's strange because the uniform has a classic design, but the font is trying to be modern," said graphic artist Josh Vanover "It clashes"/AP via KREM. More here. (SR file photo: Marquess Wilson tries to outleap UW's Desmond Trufant in the 2011 Apple Cup but is unable to stop an interception.)
Question: Which athletic team (any sport) has the worst uniforms?
---
---