Wed., Dec. 28, 2011, 9:17 a.m.
Hart, Barbieri, Adams Back Ron Paul
Bonner County Commissioner Cornel Rasor is leading the effort to line up endorsements from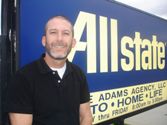 GOPlegislators in advance of Idaho's first-ever Republican presidential caucus on March 6. So far, four lawmakers are in the Paul camp: Sen. Shirley McKague, R-Meridian, Rep. Pete Nielsen, R-Mountain Home, Rep. Phil Hart, R-Athol, and Rep. Vito Barbieri, R-Dalton Gardens. That quartet is featured in a four-page e-flier from Rasor dated Monday, along with Coeur d'Alene City Councilman Steve Adams (pictured, in Adams' Facebook photo). Many Paul supporters hold precinct committee posts that give him substantial influence on the Idaho Republican Central Committee/Dan Popkey, Idaho Statesman. More here.
Question: Are you surprised that Rasor, Hart, Barbieri, & Adams are bucking the Idaho GOP establishment and supporting Ron Paul for president?
---
---