Fri., Dec. 30, 2011, 1:57 p.m.
Dick Clark To Ring In Another Year
Dick Clark's countdown to the New Year used to begin before dawn on New Year's Eve, when he would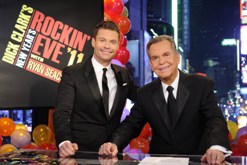 appear on "Good Morning America" and then, by satellite, on dozens of local newscasts and talk shows. He'd head home, eat something and hurry back to Times Square for "Dick Clark's New Year's Rockin' Eve. " These days, he says, he just reports to the studio in Times Square at 9 p.m. A stroke in 2004 profoundly changed Mr. Clark's life, as well as his role on "Rockin' Eve," which is by far the country's most popular televised countdown at the tail end of each year. He appears for a few segments around midnight while his protégé Ryan Seacrest runs the show/Brian Stelter, New York Times. More here. (AP/ABC photo, of Ryan Seacrest, left, and Dick Clark)
Question: Should I feel guilty re: wincing when I watch old "American Bandstand" host Dick Clark ringing in another year with increasing speech difficulties?
---
---