Fri., Dec. 30, 2011, 11:47 p.m.
Ex-Trojan Hill Shoots Way Onto Vandals
Idaho basketball coach Don Verlin will readily admit he made a mistake when it came to his handling of Connor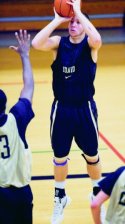 Hill. No, not when he signed the 6-foot-2, 180-pound guard out of Post Falls to play with the Vandals, but his decision prior to the start of the season to redshirt the reigning Idaho 5A high school player of the year. "I probably shouldn't have even tried to redshirt him, looking back on it," Verlin said. "... He can really shoot, and we knew that all along." To give Verlin credit, it only took him three games to realize his error. In the 10 games since, Hill has established himself as one the Vandals' top pure shooters and a reliable sharp shooter off the bench, hitting on 45.7 percent of his attempts from 3-point range and averaging 5.7 points and 9.2 minutes per game/Devin Rokyta, Moscow-Pullman Daily News. More here. (Daily News photo: Dean Hare)
Question: Did you play high school basketball? Were you good?
---
---