Fri., Dec. 30, 2011, 11:50 p.m.
Stickman: Still Enjoying HBO Ride
Stickman: I haven't been here from the beginning like Digger, but pretty close. Maybe 7 years now. I have and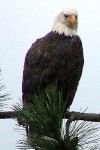 will always enjoy this ride, it's been great. DFO has allowed us to vent, to express, to get mad, to fly off the handle, to say our peace, to pretend, all of that. It's a New Year coming, so let's reflect on that fact and maybe be a little more kinder, more compassionate, less grinding on each other, and remember that we are all a family here and sometimes we don't like each other, but at least we can put up with whomever at times and smile at that fact. I will try to do that more this year. (Courtesy photo: Kerri Thoreson)
Question: Who was your favorite HucksOnline commenter in 2011?
---
---