Wed., Feb. 2, 2011, 1:22 p.m.
Sims Proposes URA Board Elections
Rep. Kathy Sims, R-Coeur d'Alene, proposed legislation to require county-wide elections for urban renewal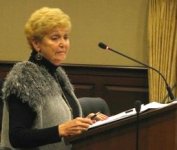 boards. "I can't believe that I'm finally here and I'm finally talking about urban renewal," she told the House Local Government Committee. "It's been on my mind for many years. … To a great extent urban renewal taxpayer dollars have been abused by many throughout the state. … That's what happens when the law is incorrectly written - predators move in and they exploit its good intentions"/Betsy Russell, Eye On Boise. More here.
Question: Should urban renewal law in Idaho be reined in, dumped altogether, or left alone?
---
---