Fri., Feb. 4, 2011, 8:09 a.m.
Giffords' Husband To Go Into Space
The astronaut husband of wounded Rep. Gabrielle Giffords has made his choice. He's headed to space in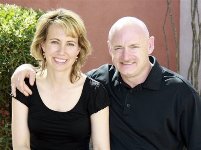 April. An official close to the space shuttle program confirmed Friday morning that astronaut Mark Kelly will be aboard Endeavour for its final flight. The official spoke on condition of anonymity because the information has not yet been made public. Kelly is holding a news conference at Johnson Space Center in Houston on Friday afternoon. He took a leave from training after his wife was shot in the head outside a Tucson, Ariz., supermarket as she met with constituents on Jan. 8/Marcia Dunn, AP. More here. (AP file photo)
Question: Did Mark Kelly, the astronaut husband of Rep. Gabrille Giffords, make the right decision?
---
---