Tue., Feb. 15, 2011, 12:55 p.m.
Elton John Spokane Concert Sold Out
Tickets to the Elton John concert at the Spokane Arena on April 8 are sold out. It took only three days for all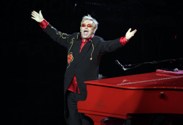 11,000 tickets to vanish, according to Becca Watters at the Spokane Arena. Tickets went on sale Saturday and only a few single tickets were left by Sunday evening. Those sold out by Monday night. Even the tickets behind the stage sold out. Will another show be added? That's what happened in 2008 when Elton's Pullman show sold out quickly. No word on that, yet, but don't get your hopes up/Jim Kershner, Spotlight. More here. (AP file photo)
Question: Did you buy a ticket to the concert?
---
---