Tue., Feb. 15, 2011, 5:40 p.m.
Spencer & Co. Lose NIC Ruling
1st District Judge John Mitchell has dismissed a lawsuit filed against North Idaho College & the North Idaho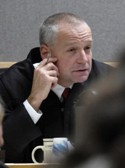 College Foundation re: the purchase of the future education corridor, brought by Larry Spencer, Thomas R. Macy, and William McCrory. Mitchell ruled that the plaintiffs lacked standing to bring the lawsuit. Quoth Mitchell: "NIC correctly argues the general rule is taxpayers, such as plaintiffs, do not have standing to challenge government action. ... An exception existed earlier in this litigation to allow the taxpayers, plaintiffs, to challenge whether the Lease Agreement was constitutional under Article VIII, § 3. Id. But the constitutionality of the Lease Agreement is now moot, as the lease ceases to exist. This 'repayment of the prepaid rent' now advanced by plaintiffs does not change the fact that the lease no longer exists. No sleight of hand argument by plaintiffs can resurrect the lease that was entirely paid off." You can read Mitchell's 25-page findings here. (SR file photo/Jesse Tinsley, of Judge John Mitchell)
Reaction?
---
---