WEDNESDAY, FEB. 16, 2011, 9:03 A.M.
CdA Charter Chief Backs Luna Plan
In his testimony to Idaho legislators, Principal Dan Nicklay of the Coeur d'Alene Charter Academy said in part: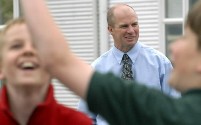 "It is unfortunate that the majority of the plan's critics focus not on whether this plan is good for students, but on their feelings that they weren't adequately consulted, and that it is going to be difficult for the adults, affecting their job security, their accustomed way of doing things, and their aversion to change. I actually heard someone say to this committee the other day that this plan, to be done correctly, should have taken YEARS to develop. We don't have years. The money is gone. The same old answers haven't worked. The time for change is now." More here. (SR file photo/Kathy Plonka, of Principal Dan Nicklay during recess in May 2008)
Question: Are you surprised that the principal of the Coeur d'Alene Charter Academy would support Superintendent Tom Luna's "Students Come First" proposals?
---
---