Thu., Feb. 17, 2011, 10:50 a.m.
Harwood Claims 'Heavy Heart'
Rep. Dick Harwood, R-St. Maries, told the House, "I stand here with a heavy heart today to debate this bill." He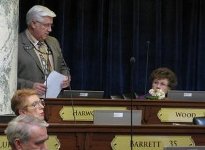 said some have accused people from his county of being racist. "I'll tell you that's nothing more than hate speech and that is not true, it is definitely not true. It's highly offensive to me and to the people of my county," he said. He told the House, "It's hard for me to debate this bill because both the county members and the tribal members are my constituents. And the very reason that we're here is because the tribal council wants us to be here." Harwood said he opposes HB 111, the tribal policing bill, because, "This bill will give the power to an entity that is not accountable to the people that it has the power over. That flies right in the face of everything this country's about, doesn't it? It sure seems like it to me"/Betsy Russell, Eye On Boise. More here.
Question: Does anyone out there seriously think that Rep. Dick Harwood gives a rip about his constituents in the Coeur d'Alene Indian Tribe?
---
---