Thu., Feb. 17, 2011, 1:36 p.m.
Riverstone Installing Infrastructure
The final public improvements could be complete within the next few months at Riverstone, a 160-acre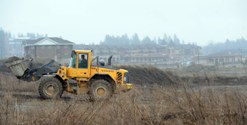 residential and commercial project along the Spokane River in Coeur d'Alene. "We will have all of our infrastructure completed, and all of our lots will be available and ready to go with this last piece, so that feels pretty good," said Development Manager Mike Craven, of SRM Development. "We'll have more lots available and more choices." Coeur d'Alene's urban renewal agency, the Lake City Development Corp., recently approved $1.5 million in tax-increment financing, which helps the developer extend a road to the complex's final 11 lots. That brings the total of tax-increment financing used for the development since 2000 to $9.68 million/Alison Boggs, SR. More here. (SR photo: Jesse Tinsley)
Question: How often do you visit Riverstone, to do business, see a movie, shop, eat, or drink?
---
---