Tue., Feb. 22, 2011, 10:58 a.m.
IACI Bankrolls Otter/Luna Phone Call
Thousands of Idahoans participated in a telephone town hall led by Gov. Butch Otter and other advocates of school reform. Monday night's forum was paid for by the state's largest business lobby, the Idaho Association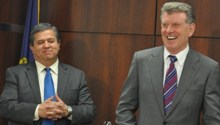 of Commerce and Industry. Otter was joined by the author of the "Students Come First" plan, Idaho Superintendent of Public Instruction Tom Luna and the two chairmen of the Legislature's education committees, Sen. John Goedde and Rep. Bob Nonini, both Republicans from Coeur d'Alene. Otter invited recipients of the call to join the one-hour forum in a recorded message, and they could choose whether to participate in the live call. Participants were asked two questions, according to IACI President Alex LaBeau, basically: "Do you support education reform?" and "Do you support raising taxes or not?" The reform question did not specifically mention the Luna-Otter "Students Come First" plan/Dan Popkey, Idaho Statesman. More here. (AP Photo/Idaho Press-Tribune, Charlie Litchfield)
Question: What do you make of Idaho's largest business group bankrolling a telephone town hall, featuring Gov. Butch Otter, Superintendent Tom Luna, and the 2 education chairman pushing ed 'reform'?
---
---