Tue., Feb. 22, 2011, 12:59 p.m.
Montana Guv: Nullification unAmerican
Gov. Brian Schweitzer, pictured, told fellow Democrats Monday that bills advancing in the Republican-controlled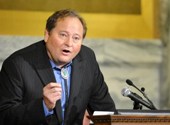 Legislature to "nullify" federal laws in Montana are "anti-American" and do nothing to solve problems faced by the state. Schweitzer, speaking to a meeting of House Democrats, said if Montanans and others disagree with federal polices, they can advocate for Congress to change them. "But a state like Montana saying, 'We will pick and choose which laws we will enforce?' " the governor said. "That's not the American way. ... "Some of these (bills) are actually passing. ... The nullifying bills are anti-American"/Mike Dennison, Missoulian. More here. (AP file photo)
Question: Do you think "nullification" bills are un-American, as Montana Gov. Brian Schweitzer does?
---
---