Tue., Feb. 22, 2011, 9:23 a.m.
Rep Wants EPA Out Of Silver Valley
New Rep. Shannon McMillan, R-Silverton, introduced her first bill today, but it's actually from her son, Wallace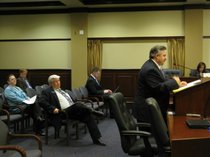 attorney James McMillan. She told the House State Affairs Committee, "I would like to yield my time to my son to explain this further," to which chairman Tom Loertscher, R-Iona, responded, "I think that would be appropriate." It's a non-binding memorial to Congress demanding that the EPA be removed from Shoshone County, along with its Superfund designation, within five years. "I'm actually the ultimate author of this resolution and I am here on behalf of Rep. Shannon McMillan," James McMillan told the committee. He said the EPA's proposed multi-year cleanup plan "would have a devastating effect upon our mining industry"/Betsy Russell, Eye On Boise. More here.
Question: Do you think the EPA should get out of the Silver Valley?
---
---