Tue., Feb. 22, 2011, 8:35 a.m.
Taser Incident Leads To Cop Firing
A Post Falls police officer has been fired for pulling a taser on one of his friends while he was on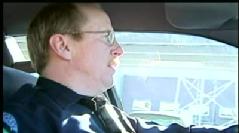 duty.Officer Ian Johnson was fired last month for what his chief termed "bad decision making."Just before Christmas, Officer Johnson was wrapping up a call for service at River City Physical Therapy. Johnson is a patient there and familiar with the staff and when he saw one of his friends he took the cartridge off his taser and pretended like he was going to stun the employee. The memory chip in the taser shows it was energized for one second but the physical therapy employee was never tasered/Jeff Humphrey, KXLY. More here. (Photo courtesy KXLY)
Question: Should Officer Johnson have been fired, given his track record of outstanding service?
---
---