Wed., Feb. 23, 2011, 5:26 p.m.
Boisean Begins Luna Recall Drive
Some Idahoans are at the boiling point when it comes to education reform. But now an official petition calling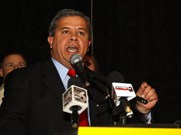 for Idaho's school chief to step down is circulating. "Last night I scanned in the petition," said Nancy Berto, petition organizer. "I started emailing it to people all over the state and this morning I've already got some messages on my email and so I'm hopeful." Berto is hoping to collect enough signatures to recall Idaho superintendent Tom Luna. She'll need more than 150,000 signatures to do so/Jen Wahl, KBOI. More here.
Question: Would you support a recall effort against Superintendent of Schools Tom Luna?
---
---