Wed., Feb. 23, 2011, 3:53 p.m.
Merit Pay Splits YouTube Star, IEA
On Monday, Jonny Saunders, a student at Timberline High School in Boise, unleashed a powerful speech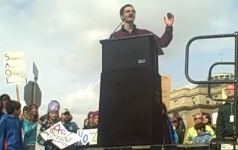 against education reform plans proposed by Superintendent Tom Luna, an address that has become a local YouTube hit, garnering more than 18,000 views in less than 48 hours on the social media site. In the speech, Saunders labeled Luna as a crook, beholden to corporate interests, and said that the reform plans would lead to a poor education system in the Gem State. During one portion of his speech, Saunders vehemently argued against merit pay, saying that the plan would ultimately lead to educators to only teach to tests. What makes his merit pay presentation particularly interesting is that it came at a pro-education rally to protest Luna's plan but one controversial element of the plan, merit pay, is supported by the largest teachers' organization in the state/Dustin Hurst, Idaho Reporter. More here. (Photo courtesy Idaho Reporter)
Question: Does Jonny Saunders disagreement with the teachers union on merit pay take away from his passionate speech against Superintendent Tom Luna's education "reform" proposals?
---
---