Mon., Jan. 3, 2011, 9:12 a.m.
McEuen Field Open House Thursday
If this dream were to become reality, McEuen Field would be no longer. In its place: a 20-acre destination park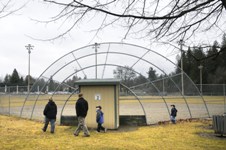 designed from the ground up to serve "the greatest number of uses for the greatest number of people, of all ages and abilities, throughout all seasons," according to the mission statement of Team McEuen, the four-person crew of engineers, architects and a landscape designer tasked with the park redesign. This is McEuen Park, and it's a radical departure from the fields, fences, lights and blacktop found between Front Avenue and the base of Tubbs Hill. The city boat launch, American Legion Baseball Field, softball fields and parking lots would make way for walkways, water features, public spaces and a variety of sport courts/Jacob Livingston, SR. More here. (SR file photo of McEuen Field softball diamond: Dan Pelle)
An open house and discussion of the proposal will be held at 6 p.m. Thursday in Lake Coeur d'Alene Room of North Idaho College Student Union Building.
Question: What is your biggest concern re: the overhaul proposed for McEuen Field?
---
---