Thu., Jan. 6, 2011, 10:49 a.m.
Lake: We Should Collect Online Taxes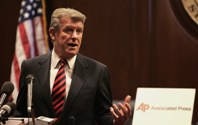 The final panel at today's AP Legislative Preview is addressing revenue and budgeting. House Rev & Tax Chairman Dennis Lake said the question of taxation of online sales will come up again. "This is not a new tax - this tax is owed," he said, "and a lot of us are not paying it." Senate Finance Chairman Dean Cameron, R-Rupert, said, "This'll be my 20th year. I don't recall ever feeling more challenged than I feel coming into this session"/Betsy Russell, Eye On Boise. More here. (AP photo: Matt Cilley)
Question: Should push to collect its share of taxes from online purchases?
---
---