Sat., Jan. 8, 2011, 5:15 p.m.
Weekend Wild Card — 1/8-9/11
I've been gone most of the day and not tuned into the news. So I learned of the horrible news from Arizona by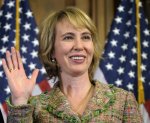 checking this Wild Card thread a half hour ago. Sick, sick, sick stuff. It's sad and heart-breaking that so many violent mad men are on the loose to shoot police officers, fellow students, fellow soldiers, and now this senseless attack on the congresswoman, her aides, and bystanders. I'm way behind on this thread. So I'm simply changing the Wild Card thought to catch up, and allow you to continue to comment. I'm posting this photo of U.S. Rep. Gabrielle Giffords, D-Ariz., at her recent re-enactment of her swearing-in on Capitol Hill in Washington. I pray for her recovery from the shootings earlier today at a grocery store that killed at least five people. Now, to replay the Wild Card ...
---
---